FAQs
Who is the actual DJ/MC for my party?
Me, that's right, I am the actual DJ, MC and event coordinator for your big day!
Do you travel?
Yes, I travel anywhere you would like me to go.  Based in Baltimore, MD, my main service area includes Maryland, Virginia, Washington DC, Delaware, Pennsylvania, New Jersey and New York. I've also provided entertainment at destination weddings in the Caribbean (and would love to go back!)
What equipment do you have?
You'll hear all your favorite songs on a reliable, professional grade sound system hiding behind an unobtrusive, clean facade. I provide the right sound and light systems for you and your affair. My mobile disc jockey equipment and lighting includes gear from Denon, QSC, JBL Pro, Numark, Apple, Martin, Chauvet, American DJ and more. I always bring backup equipment too. A wireless microphone helps me motivate your guests to fill the dance floor without wearing out my welcome and also allows you or any other special people to say a few words to your guests.
I bring professional gear that is perfect for your event.
Are you be willing to play requests and discuss music ahead of time?
Of course! I want to make your party your party. After listening to your suggestions, I will provide feedback for the best music for your affair. I strive to keep your dance floor packed – isn't that why you hire a DJ?
Can we provide a special song?
I'll make every effort to make this process easy for you. In the rare event I cannot find your song, you can definitely bring the CD or email me the mp3 and I'd be more than happy to play it for you.
I have this crazy idea, can we do it?
Yes! I love stepping outside the box and doing fun, unique and unusual things.  What is it?!?
Why don't you list your prices online?
Before we talk shop, I want you to get to know me as a person to make sure I am the right choice.  I offer a variety of options to enhance your party.  No two events are the same, so it's best to meet to figure out what is best for your affair.  The right entertainer can make your event….the wrong one can ruin it.  You do not want to book the wrong one, so contact me to schedule a meeting and receive a quote.
Do you accept credit cards?
Nope, sorry. I only accept check, cash or really nice dinners for me and my wife.
How will you dress?
Depending upon your event, I have attire for formal to casual to themed affairs. I also have 30 tie colors (yes thirty!) to match your room or theme decorations. No matter what, I'll be a sharp dressed entertainer.
Are you a member of any professional organizations?
I network, learn and grow as a DJ/MC/Entertainer through chapter meetings, national DJ conventions and seminars as well as participating in online mobile entertainer forums. I also read trade magazines for mobile disc jockeys, club DJs and event planners. I'm a:
Board Member of the Baltimore Area Disc Jockey Association (BADJA)
Proud Member of the National Association of Mobile Entertainers (NAME)
Founding Member of The United States Disc Jockey Association (USDJA).
How many events do you perform annually?
As DJ Mike On The Mic, I've personally perform around 50-80 events annually. With over 1,100 successful parties under my belt, I have hundreds of satisfied customers.
Do you take breaks?
No. I perform non-stop for you entire affair.
How loud will the music be?
The music volume is a very important aspect of every event. You should be able to converse and catch up with your friends and family you haven't seen in years. I'd rather raise the volume than lower it! During the event, I frequently walk around the room ensuring that the volume is at an appropriate level.
Are you insured?
I have equipment insurance and carry a $2,000,000 liability insurance policy per event to protect my business, my clients and their guests.
Can we see you in action?
I'd love for you to see me perform. I believe that if you see me in action, you'll want to book me "on the spot." However, I respect my clients' privacy as it's their choice. Would you want a random person "crashing" your affair? If another DJ invites you to one of his parties, other people will definitely walk into yours. Plus potential clients might walk in at at inopportune time. At an affair, my focus is solely on my clients, not selling my services to future Bar/Bat Mitzvah families or wedding couples.
Do you have a DVD?
Whether it's a high-energy, high-end party or a modest, casual celebration, each party is completely customized for every one of my clients. If you're in the market for an informal affair, you probably don't want to see a video with tons of interaction, dancers motivating the crowd, a light show filling the room with colors and patterns or music videos on a huge screen. Everyone knows that when the "YMCA" is played, your guests will use their hands to spell out the letters and your crowd will follow along to Cupid's lyrics to dance the "Cupid Shuffle." Therefore, I don't have a demo. Besides, a DVD is the work of a professional videographer, not a DJ. You'll see a couple highlights from a party with some fancy fades, transitions and effects. You will NOT see all the interaction that goes on behind the scenes between me and your caterer, photographer, videographer, party planner and other vendors which lead to a smooth flowing and stress free affair.
How far ahead should I book you as my DJ?
Although I can sometimes accommodate the last minute booking, I already have signed contracts for June 2020 (yes, that's 3 years from today). Yes, I know. It's crazy. So don't wait too long to contact me because my calendar is filling up every day.
Everything looks and sounds great. How do I book you as my DJ?
It's simple! Click the link to fill out the form below. Then we'll schedule a meeting to discuss the basics of your upcoming party.
Request more information now!
Get in touch
410.299.8069
Mike@DJMikeOnTheMic.com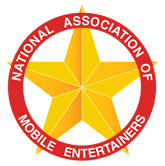 Enter your party's date
so we can schedule a meeting to discuss your affair.